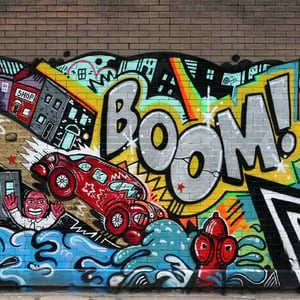 $

100.00
Archival Giclée Print
Printed on 100% cotton heavyweight matte finish rag paper. The image is produced using quality acid-free materials. Properly displayed under glass in standard indoor lighting, away from direct sunlight, it will preserve its original contrast and color intensity for a lifetime.
Seamlessly stitched panorama photographed by Nicky Dieter with a Canon 20D, EF 50mm f/1.8 II lens.
Edition: 25 signed and numbered
Artist: MR. THOR with assistance from Nick Dieter, Shipwreck, Risk, Yoink, Jack, and the 33rd Latin-Kings.
Location: 32nd Place at Morgan, West Bridgeport, Chicago IL.